Category Archives: Writing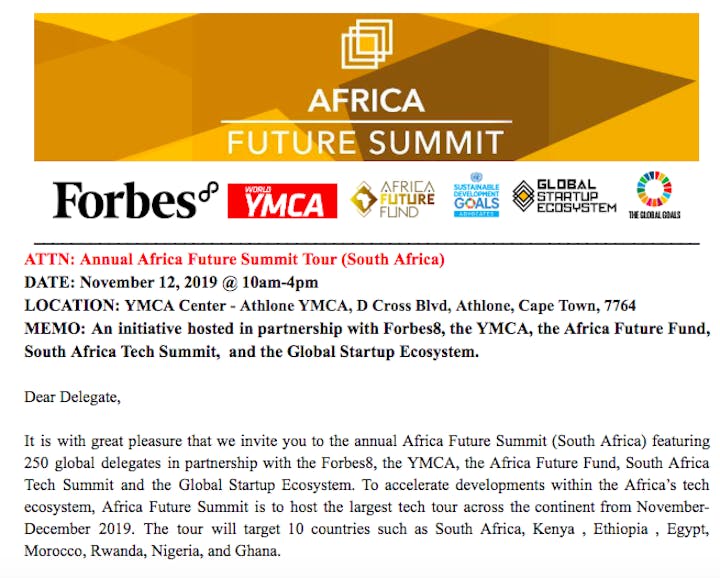 The fourth industrial revolution is coming and Africa needs to get ready.
The Africa Future Summit helps accelerating development, as it caters for organisations at grassroots level.
Often tech events happen where tech is readily available: in the City Center. However, the CBD is not easily accessible for disadvantaged people.
The Africa Future Summit solved this all too often ocurring non-inclusivity by partnering with the YMCA.
In South Africa the YMCA in Athlone was chosen, an area that has been plagued with increase of violent crime over the past years.
But the YMCA is on the outskirts right next to the Athlone Stadium, a good landmark not to get lost. So even a few of the ususally included city people made it out to Athlone.
The event itself was packed, people pouring out of the main hall for a break, exhausted from all the information that was presented. And that was just the morning session. The afternoon session was where all the bootcamps came in.
It was a young crowd, full of aspiration and ideas. At the Africa Future Summit they got ignited to actively making the future of Africa happen.
The tour teaches fundamentals of frontier tech investments, startup development and ecosystem building via exclusive sessions with award winning local and international experts.
Each country features its own combination of on site workshop training, networking round tables, live Q/A sessions with speakers and sponsors, attendee spotlight features, exhibitor showcase demos and VIP networking.
To accelerate developments within Africa's tech ecosystem, the agenda curriculum includes training sessions on future technologies (Ai, Blockchain, Virtual Reality, Space, Nanotechnology, Internet of Things etc.) and career development sessions on personal branding, digital entrepreneurship and the future of work.
Attending the Africa Future Summit makes you future-ready, from the grassroots level up.
To join the free Africa Future Tour you can RSVP here:
For interests related to speaking, sponsorships, and partnerships, please direct inquiries to info@africafuturesummit.com.
Tags: #AfricaFutureSummit, tech